The Stage Names
Okkervil River
Jagjaguwar


It would be an understatement to say that Will Sheff is a man with demons. As lead singer and lyricist for folk rockers Okkervil River, he is seldom at a loss for writing material. Count that as one of the few benefits of demons, because, luckily for Sheff, he was destined to be a rock star. Demons don't synthesize as well with other professions as they do with music. Think about it: would you want an emotionally distraught dentist hacking at your teeth?

Musicians are an exception, though. Actors, writers, sculpters, poets, film makers, entertainers . . . they are all allowed to work with and through their demons. It is accepted that profound insight, in the forms of artistry and creation, can be gained through emotional and mental instability. Whether this is true or not is entirely irrelevant to this review. But it might explain why Sheff chose these people as protagonists in The Stage Names. Perhaps he felt closer to them, was drawn to them in some intangible way.



Still, Sheff seems to be more at ease with himself these days. While 2005's

Black Sheep Boy

was a wrenching, jangling catharsis,

The Stage Names

is more comfortable in the pitch of its emotions. There's room to breathe here, to wander freely in one's introspections and emotions – a controlled process as opposed to a roiling, uncontrollable mash of emotions that was

Black Sheep Boy

.

"Our Life is not a Movie or Maybe" opens the album with head-bopping rhythms intrinsic to Okkervil River. A flourishing melody gives way to an eerily stark instrumental section before regaining control by the end. "Unless it's Kicks" is quite possibly the best song on the album. Lyrics like, "

your love isn't lost/my heart is still crossed,

" would be written off as cloying if played by lesser bands, but the combination of Sheff's melodramatic howls along and Travis Nelson's frenzied drums pulls it off superbly. The energetic track then melts into a sparkling ending that sounds like the musical equivalent of a leisurely summer picnic.

In "A Hand to Take Hold of the Scene," the listener gets the sense Sheff is either winding up to or coming down from a volatile temper flare. But the accompanying music is so utterly bouyant, complete with camp hand-clapping, that it's heedless to worry. In contrast, "Savannah Smiles" is an arresting confessional from the point-of-view of a father reflecting on his relationship, or rather, lack thereof, with his daughter. Like its protagonist, the song is subdued and pensive.

A lyrical triumph more than anything, "Plus Ones" gives an identity to the lost extras throughout musical history. The list includes: Question Mark and the Mysterians' 97th tear, the Zombies' 55th cell, and the Crests' 17th candle. There are plenty more, but half the thrill of "Plus Ones" is in finding them . . .

"A Girl in Port" is a pure melancholic slice of americana. Sheff might have fictionalized this protagonist, but he's channeling Neil Young. It's also here that Sheff's fragile, cracking voice is at its best. And while it's true that there's not a bad song on the album, "You Can't Hold the Hand of a Rock and Roll Man," is the weakest. No doubt it suffers from being sandwiched between two of the best tracks on the album.

Okkervil River are almost perfect on "Title Track," whose subject is The Stage Names, and whose tongue-in-cheek naming ironically negates the possibility of it being, in fact, the title track. But listeners won't be focusing on that. Rarely has bittersweet wistfulness sounded so divine. It's the song that most wholly encompasses the album's lethargic melancholy, and in that sense it truly is the definitive title track.

"John Allyn Smith Sails" is a final salute to stage names as the faint, snaking melody slips into a rollicking pseudo-cover of the Beach Boys' "Sloop John B." Smith was the pen name for mid-century poet John Berryman, whom Sheff has credited with influencing his confessional style of writing. No stranger to writing about death, Sheff spins an affecting take on Berryman's 1972 suicide. It's apt way to end an album about artists, and as the song dies in spasms of "I want to go home " the limit of stage names is decidedly clear: they can shroud identity from others, but demons are forever.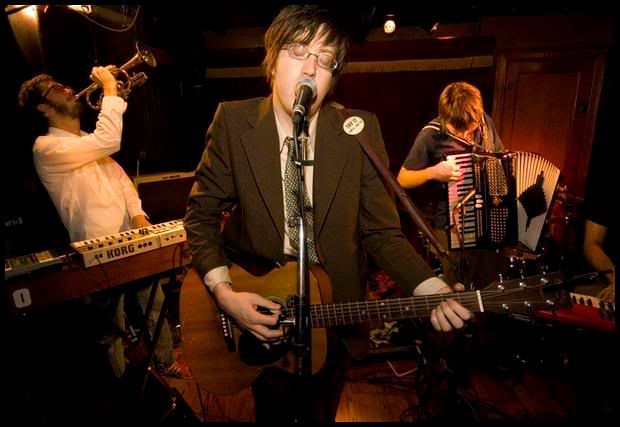 Stylistically, there are no surprises with

The Stage Names

. Aside from a somewhat airier sound than their last LP, Okkervil River are in familiar waters. The lighter mood makes for a more accessible sound than much of their previous work, but, contrary to what many reviewers would have you think, that isn't necessarily a bad thing. No, the biggest disappointment with

The Stage Names

is its short running time, ending at just over 41 minutes. Fans will be scrambling to hear more, certainly, but it is a staggering feat that the follow-up to the critical smash

Black Sheep Boy

is disappointing in just this one aspect.



- L.A. Bryan
Click to listen to "Unless it's Kicks"

www.okkervilriver.com
www.myspace.com/okkervilriver