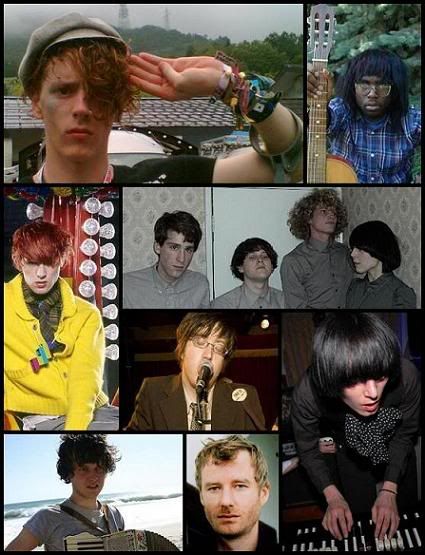 2007 was a spiffing good year for British imports. Whilst returns to psychedelic rock and post-punk were most impressive, shoegaze and space rock were (are?) also on the rise. Here I've selected the top 10 albums and top 30 songs of the year. Neither the albums, nor songs were given rankings within their respective groups. It's largely irrelevant, since on any given day, any given mood might shift #30 to #1 and vice versa.
Year end lists will always be sketchy, if only for the fact that there is always something out there the compiler has yet to hear. Consumer-driven publications will dumb down their content enough to attempt to quantify an art form using rational standards, which actually does fill a niche, offering the easily digestible information which most people seem to crave.
For more serious music-devourers, who ingest compulsively, selectively, because it soothes, drives and haunts them: I offer my lists. Unlike most year-end lists, they are not meant to force feed information or spark some 15 second trend, but rather to share experiences, to spark ideas and feeling and, ultimately, to get you closer to God. Alright, maybe not the God thing, but then again you never know . . .
Top 10 Albums
The National: Boxer
-
Subtly gorgeous orchestration, angsty idealist lyrics in Matt Berninger's seductive baritone. Oh yes, I'll have that.
Mystery Jets: Zootime
- Nearly the same album released in the UK last year; this US release still makes the cut.
iLiKETRAiNS: Elegies to Lessons Learnt
- You know that sound when noir and Expressionist films melt together and form into massive icebergs whose pieces crack thunderously and crumble in a rush of white foam into the frigid black sea? No? Well, this is that sound.
Beirut: The Flying Club Cup
- The best Balkan minstrel rock you'll hear this year. But seriously, it brings to mind Tom Waits'

Black Rider

masterpiece, which, in my experience, is never a bad thing.
The Horrors: Strange House

-
Manic, spastic, grisly freak-beat to have an epileptic seizure to . . .
Okkervil River: The Stage Names
- Just when you thought Will Sheff had nowhere to go but down . . .
Electricity in Our Homes: The Shareholder's Meeting EP
- Phenomenal debut EP from this stripped-down, stacattoed post-punk band out of southeast London's robust music scene.
Animal Collective: Strawberry Jam
- Quirky noises and songs with funny names are usually transparent ruses musicians use to hide their horribly dull and cliched indie rock. This, however, is a smashing success.
Klaxons: Myths of the Near Future

- Space Rock, Rave Pop -- who really cares when it's this good?


Dragons of Zynth: Coronation Thieves

- Afro-Psych with intelligent lyrics and sounds ranging from delicate melodies to rocked-out fuzzy bliss.





Top 30 Songs
Hatcham Social - 'Til the Dawn http://youtube.com/watch?v=_DUXSHnpkeM

The National - Mistaken For Strangers
http://www.youtube.com/watch?v=cgRsYkKb1eI


The Black Lips - Cold Hands
http://youtube.com/watch?v=rJojRf6Kf8o

Patrick Wolf (feat. Marianne Faithfull) - Magpie
http://media.putfile.com/Magpie---Patrick-Wolf

Ulrich Schnauss - Medusa
http://www.youtube.com/watch?v=bZ0P7nEh3c0


The Horrors - She Is the New Thing
http://www.youtube.com/watch?v=uTgOe9Uda54


Animal Collective - Peacebone
http://www.youtube.com/watch?v=fxvGHQHiY70


Battles - Atlas
http://youtube.com/watch?v=IpGp-22t0lU


Deerhunter - Cryptograms
http://media.putfile.com/Cryptograms---Deerhunter

Blood Red Shoes - I Wish I Were Someone Else
http://www.youtube.com/watch?v=lQ3HV0lRMOo


Editors - Bones
http://youtube.com/watch?v=Vu33zq-HWAE

Maps - It Will Find You
http://youtube.com/watch?v=nEpkouuK6n4


Lightspeed Champion - Midnight Surprise
http://youtube.com/watch?v=3rMwc10uNOg


The Draytones - Keep Lovin' Me
http://www.youtube.com/watch?v=3XQzEM38YEs


Dragons of Zynth - Breaker
www.myspace.com/dragonsofzynth

Klaxons - Golden Skans
http://www.youtube.com/watch?v=hiq_0vEDAbE


iLiKETRAiNS - The Deception
http://www.youtube.com/watch?v=8TwvBsoWpQ8

Interpol - Pioneer to the Falls
http://www.youtube.com/watch?v=hZmLdBOS2aI

Bloc Party - Hunting for Witches
http://www.youtube.com/watch?v=P2EkcT9q28Q


Neils Children - You Didn't Care
http://www.youtube.com/watch?v=df_3ca31IZg

Beirut - Nantes
http://media.putfile.com/Nantes---Beirut

Nervous Cabaret - Sleepwalkers
http://media.putfile.com/Sleepwalkers---Nervous-Cabaret


Sea Wolf - You're a Wolf
http://www.youtube.com/watch?v=UBE8gB5JSzU


Spider and the Flies - Metallurge
www.myspace.com/spiderandtheflies

Sunset Rubdown - Up On Your Leopard, Upon the End of Your Feral Days

http://media.putfile.com/Up-On-Your-Leopard---Sunset-Rubdown


Andrew Bird - Imitosis
http://youtube.com/watch?v=hnXCzFnkxtY


Electricity in Our Homes - We Don't Need Honesty
http://media.putfile.com/Electricity-in-Our-Homes---We-Dont-Need-Honesty


SHITDISCO - Emanator
http://media.putfile.com/Emanator---SHITDISCO

Artefacts for Space Travel - Recoop
www.myspace.com/artefactsforspacetravel

Time.Space.Repeat - The End of the World http://media.putfile.com/The-End-of-the-World---TimeSpaceRepeat