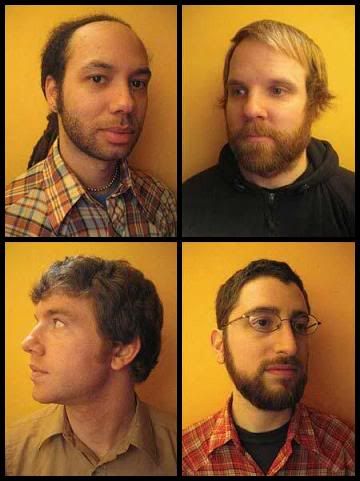 It is with infinite grief that I report the demise of Arks. One of the few genuinely talented nouveau post-punk bands, these Chicago boys were as exciting in life as they are eloquent in death:
We are of course saddened to depart from beneath a banner that's served us dutifully for these past five years, but we are simultaneously adrenalized by upcoming collaborations with each other and with the inimitable talents with whom we've been fortunate enough to acquaint ourselves over the band's lifespan. We realize, ultimately, that this is not a death: this is simply a necessary mutation. This is a branching out in the evolutionary tree.

And as this evolution is mutually recognized and accepted within the band, the group's soft disintegration is executed with no ill-will. We dissolve Arks as we ran it: as the best of friends. We wish only success toward one another in future projects. We will be the first ones in line at one another's shows. Just try and stop us.
Lead vocalist and guitarist Paul Hormshemeier and drummer Glenn Rischke continue a partnership with the ambient experiment
Music Hall
, while Mat Biscan (guitar) and Lanny Oswalt (bass) will work together on an as-yet-unnamed project with another as-yet-unveiled Chicago musician whose own band has too recently disintegrated.


So, farewell, Arks. Your jagged intensity will be missed, along with the arketypal key changes, stuttering beats, haunting guitars and visceral lyrics. Best of luck in your new and continuing mutations, and thanks for one hell of a last album.



www.arksmusic.com
www.myspace.com/arks
***
www.myspace.com/musichall