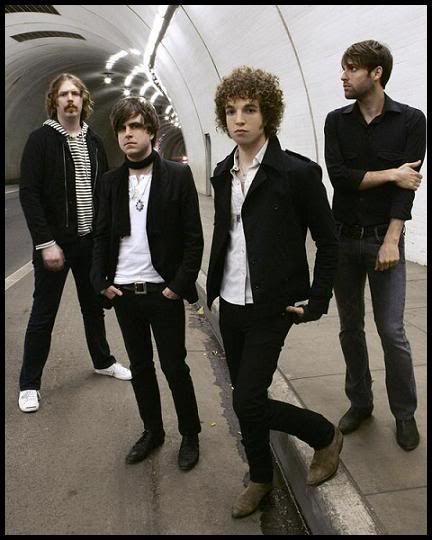 Happiness LTD
Hot Hot Heat
Sire Records


The third time 'round for Hot Hot Heat finds them with a bit more studio polish and, as you might have guessed from the title, a bit more depressed. Not unexpected, since lead singer and lyricist Steven Bays penned several of the songs after breaking up with a long term girlfriend. Still, two years on from

Elevator

, their commercially successful second album,

Happiness LTD

pushes Hot Hot Heat's reach as a band further than they've yet been.
"Outta Heart," most certainly one of Bay's post-relationship writings, uses backing instrumentals and voices to produce an almost (Richard) Ashcroftian anthem about a relationship gone askew. "Harmonicas and Tambourines," meanwhile, sounds like it could be on the Weird Science soundtrack and is one of the album's definite missteps.
Perhaps Hot Hot Heat should just stick to being Hot Hot Heat. The best songs on the album aren't trying to forge a new sound and therefore don't sound forced and/or generic. "5 times out of 100" captures the biting lyrics of previous albums, "My Best Friend" is pure frantically-paced, piano-laced brilliance, and "Conversation" draws on Bay's intense voice and stutter-staccato rhythms to create near perfect dance pop. It's just too bad the rest of the album can't keep up.


www.myspace.com/hothotheat

-- Click to listen to "Conversation"





Also new this week:





Hideout




Film School




Beggars Banquet




Film School have been indie rock staples since the beginning of this century.

Hideout's

musical depth is most striking: the fuzz, layering, psychedelic undercurrents and lethargic sounding vocals. This is the sort of album you'll have to listen to multiple times to truly appreciate – the good news is that you'll want to.


www.myspace.com/filmschool

-- Click to listen to "Lectric"



A Drink and A Quick Decision
Grand National
Recall Records


Comparisons to the Police are inevitable for Grand National, and not only for the fact that members Rupert Lyddon and Lawrence Rudd once toured as a Police and Queen cover band. The duo's synth pop is certainly catchy, and besides the Police, echoes of New Order and Depeche Mode are clear. Good album for dancing, driving and indulgent introspection.

www.myspace.com/grand_national
--
Click
to listen to "By the Time I Get Home There Won't Be Much of a Place For Me"