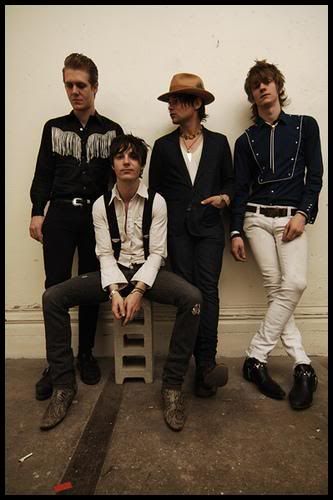 Don't Dance Rattlesnake
The Films
(Self-released)


The Films' universe is a
mélange
of derangement: manic, acerbic and often problematic, generally concerned with relationship problems and innocent outings gone horribly awry. As the album unfolds, this universe reveals itself to the listener behind driving guitars and cheeky but honest lyrics. It's a staggering thought then, and a feeling not too far from betrayal, to realize

Don't Dance Rattlesnake

might never have been released in the U.S. because of one label's incompetency and negligence.
Don't Dance Rattlesnake

has been available to buy in various countries around the world since February. When "Belt Loops," the second single from the album, was released in the U.K. in June, there was still no date set for an American release. Fast forward to August and The Films, fed up with broken promises, break with their label, Warner Bros.
As badly as that might have gone, the result of the fissure is the North American self-release of

Don't Dance Rattlesnake

and its companion album

HORSEFORCE!

, an acoustic re-working of the

DDR

lineup. And how we do appreciate such aggressive self-direction when the outcome is music like this!
The universe opens up in an excellent way with "Good Day," gliding in on the sound of a contented lethargy one could listen to for hours whilst lounging on a hammock, drinking glass after glass of (Long Island) iced tea.
"Belt Loops," of course, is a speed-induced trip through the fiery landscape of ramshackle romances. The biting lyrics will be particularly fun to sing if the listener has experienced a belt loops-type phenomenon. (Think of it as a quick route to healing.)
In contrast, "Jealousy" is wrenching, twangy alt-country to which Will Sheff would surely give his approval. It's an interesting counter to "Belt Loops." The pairing of the two songs shows The Films' emotional range: touching on the same subject through provocativeness and introspection, respectively.
Searingly clever lyrics make "Talk, Talk" as smart as it is fun to rock out to, while "Tabletops" plays ode to youthful whimsy, unapologetic frankness and unyielding optimism. And with moves like firing their label, the song is oh-so-wonderfully honest.
"Black Shoes," the first single from

DDR

, is still the best amalgamation of blatantly catchy riffs and cheeky lyrics wrapped in lead singer Michael Trent's raw vocals. If the song doesn't spur you to at least tap your foot, well, you may be in need of an I.V.
Last four songs of the album, in particular, seem to showcase The Films' story-telling abilities. I prefer the

HORSEFORCE!

version of "Holliewould Getaway," – I'm a sucker for piano rock, and it's got a bit of a Tom Waitsian sound to it.
"Bodybag," as the album's last song, uses melancholic sounds and reflective lyrics and for a pleasant change of pace. It's a fitting end to a mostly manic but obviously intelligent album, and perhaps a caveat to those who navigate The Films' album, and universe, too unthinkingly.


Sample MP3s:
-- Jealousy
-- Black Shoes
-- Holliewould Getaway (

HORSEFORCE!

version)


If you like what you hear, you can buy

DDR

through The Films' store, or iTunes. The companion album,

HORSEFORCE!

, is only available by purchasing the Limited Edition release directly through The Films' store, however.