Falling Off . . .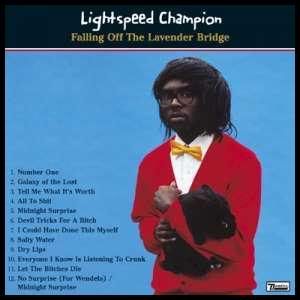 Take a moment. Breathe, relax. Lightspeed Champion's full-length is finally here. After months of teasing us with his brilliantly quirky singles, Dev Hynes' first solo album,
Falling Off the Lavender Bridge
, will be released in the UK on Jan 21st. The North American release will debut on February 5th. Track list for the LP:
1. Number One
2. Galaxy of the Lost
3. Tell Me What It's Worth
4. All to Shit
5. Midnight Surprise
6. Devil Tricks for a Bitch
7. I Could Have Done This Myself
8. Salty Water
9. Dry Lips
10. Everyone I Know is Listening to Crunk
11. Let the Bitches Die
12. No Surprise (for Wendela)/Midnight Surprise (Reprise)
Can't wait 'til the end of January/beginning of February for your Lightspeed fix? "Tell Me What It's Worth," another single from
Falling Off the Lavender Bridge
will be released tomorrow, Jan. 14. Get it
here
in three different pressings (one CD, two vinyls).
Buy the album directly from Domino Records, or through Amazon in the
U.S.
or
U.K.
Larrikin Debuts Band, Play
Ed Larrikin, former frontman and creative force of sadly-defunct Larrikin Love, showcase
s his second project, The Pan I Am, for the first time outside London on February 2nd, in Oxford. The Pan I Am has its roots in the same Thames-folk rock sound as Larrikin Love, but The Pan I Am is more experimental: freer in its form and musically bold. Adventurous, ambitious, thrilling.
Plus,
violins raging a jagged mania so intense they could be the aural manifestation of Charlotte Perkins Gilman's "The Yellow Wallpaper." If I were in the area, this is a debut I would surely not miss.
With The Pan I Am's debut album completed and slated for a possible July release, Larrikin's whirlwind of production still hasn't slowed. His one-act play,
Camusflage Krokodial
, will be featured at the London Word Festival, on March 8th. The Pan I Am will also play an acoustic show at the event. More info go to:
www.londonwordfestival.com
***
www.myspace.com/lightspeedchampion
www.myspace.com/thepaniam