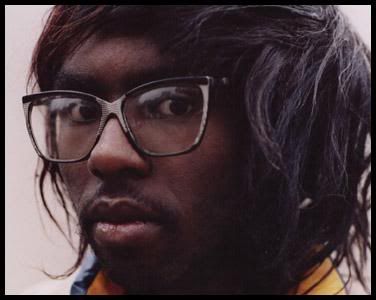 Falling Off the Lavender Bridge
Lightspeed Champion
Domino


So the head-ache-inducing cacophony of chaos that was Test Icicles did in fact serve a purpose beyond hedonistic revelry. Dev Hynes, former guitarist of that now-defunct band, has released his highly-anticipated solo album,

Falling Off the Lavender Bridge

, under the moniker Lightspeed Champion.
Hynes smartly surrounded himself with alt-rock veterans during recording and production of the album, sequestering himself in Oklahoma in a house owned by Conor Oberst (Bright Eyes). Mike Mogis, also of Bright Eyes, produces and provides musical accompaniment, while Brit songstress Emma-Lee Moss (Emmy the Great) offers backing vocals nearly all the tracks. Also lending their voices at various points on the album are members of Tilly and the Wall, Cursive and The Faint.
The result is perhaps the loveliest aural incarnation of personal despair since Okkervil River's

Black Sheep Boy

in 2005. If that seems strange coming from a former Test-Icicles member, I'd have to agree. But Hynes makes his separation from that band immediately clear in the opening lines of the album on "Galaxy of the Lost":

Hate to think what would happen/if I started to drink like you/maybe I would loosen up/pour me another gin

. An ex-Test-Icicles musician needs loosening up? Unexpected, to say the least.
Still, where

Black Sheep Boy

was more, say,

Battleship Potemkin

,

Falling Off the Lavender Bridge

is

The Royal Tenenbaums

. While the lyrics reveal a person struggling through an intense web of depression and self-doubt, the music itself is upbeat experimental pop. And Hynes does sprinkle self-deprecating humor throughout, lightening the mood a bit before inevitably diving back into melancholia.
This juxtaposition of light and dark was captured brilliantly in the video for "Galaxy of the Lost," which, somewhat disturbingly, features children's television-styled "monster puppets" puking up fur-balls which mutate into monster puppets which puke up fur-balls, etcetera, until the room is filled wall-to-wall with frothing, puking puppets. Perhaps, though, the best juxtaposition of light and dark is Hynes himself, whose internal state is deftly hidden behind a friendly, if slightly quirky, exterior.
Musically, Hynes has somehow bridged a gap between his birth land, Texas, and England, where he has lived since early childhood. Thoroughly Brit pop, his music still draws largely on the country-western soundscapes he encountered as a young boy in Houston. Other influences seem to have no derivation; the song "Everyone I Know is Listening to Crunk" could be comfortably at home in a Gershwin musical.
Anchoring

Falling Off the Lavender Bridge

is the ten-minute-long "Midnight Surprise." It incorporates all the elements the album possesses: pop sensibilities, funereal lyrics, unconventional interludes and radiant harmonies. Its immense length only adds to the complexity. Like a short story in music form, it transports the listener to a place out of time, where suppressed emotions exist freely and memories long-faded vie for attention. For ten minutes the listener can live here – longer, if he so chooses, because pressing repeat is just that easy. But staying for an extended time can paralyze a person with indulgent self-examination. The pleading last line "Shoot me into sleep" takes on an entirely new meaning, then, and as the words repeat and the music fades, listeners will have to decide for themselves how many times to visit this perfectly insular place.
Other stand-out tracks include the previously mentioned "Galaxy of the Lost" and "Everyone I Know is Listening to Crunk," along with "Tell Me What It's Worth" and "No Suprise." But, really, there are no weak songs here. An album this well-crafted and complete is such a rarity in today's trend-of-the-moment singles bands. That it is also a 21-year-old's debut is, frankly, astonishing. Some credit must be given to the excellent production work of Mogis, of course. But the majority goes to Hynes and his elegant r
einvention of sound post-Test Icicles.

***
To pre-order Falling Off the Lavender Bridge, go

here

.





Listen to

"Everyone I Know is Listening to Crunk"

.

***

"Galaxy of the Lost" vid: