Playing Saturday, March 8th @ the Cake Shop! 8pm Sharp!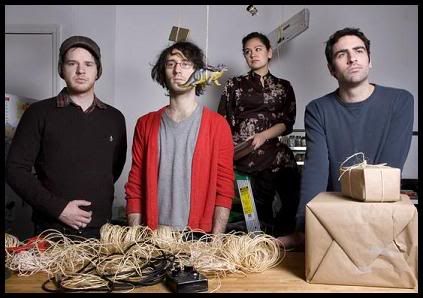 This Brooklyn quartet plays lush chamber rock and uses lead singer Pamela Martinez's unique vocals and penchant for clever arrangements to create a sound both timeless and totally different than anything you've heard. The band's minimalist-to-indulgent musical arrangements provide the perfect playground for Martinez's vocals to regale emotion, whether climbing to an epic peak or snaking softly through layers of piano, violin, guitar, beats, harps and accordians.

Teletextile self-released their debut album,
Care Package
, in 2006, garnering comparisons to Sigur Ros and Bjork -- a reviewer from the
Boston Phoenix
even went so far as to call Martinez "the American Bjork." If forced to compare them to their musical contemporaries, elements of Final Fantasy, Eluvium, Dresden Dolls and, yes, Bjork, are apparent. Still, the end result is much more than an amalgamation of borrowed parts:
Perhaps their best song, "AMPM 2" is a brilliant track that will probably go unnoticed by a large percentage of the population because of its complexity. The vocal arrangement is complicated and can be difficult to grasp initially. At the same time, this is what makes the song so intriguing. The elegantly swaying melody, layered with repeating noises and clicks, sewn together loosely with sharp bursts of violin, neither overwhelms the vocals, nor loses its relevance alongside the complex vocal arrangement. It provides instead the perfect background for a reflective soliloquy, which is ultimately the vibe "AMPM 2" harnesses; this song would not be out of place in a new Broadway show.


"Safer in a Down One" is like an ode to Eluvium with its gentle build up of piano over a steady hum of strings and white noise. It fades into "Safer in a Down Two," keeping the same mood musically, but adding Martinez's fervent vocals for an arresting three minutes of song.


At the moment, Teletextile is working on new material for a follow-up and touring like mad. This Saturday night, in fact, they're playing the Cake Shop on the Lower East Side, alongside indie-pop veteran School of Language (David Brewis of the now-defunct Field Music). I'll be there to do a live review, so stop by and check them out if Teletextile sounds like something you'd dig.


If you haven't been to the Cake Shop yet, I can't recommend it highly enough. Part pastry cafe, part music shop, part live music venue with a fully-stocked bar. It caters mostly to local indie rock bands, and is open until the wee hours of the morning. Jesus. What else could you need on a weekend?


***

www.teletextile.com

www.myspace.com/teletextile


"AMPM 2" video: