Late of the Pier will release double a-side single

Space and the Woods/Focker

on May 19th. The single will be available in 7", 12", CD and digital formats. Each of the formats offers different b-sides and remixes. You can check out the details for each, and purchase one (or all four) here.
"Space and the Woods" was the band's first single and was first released last year. It's being re-released, one hopes, to pad the way for a full-length or EP. "Focker" makes it's debut here, however, and what a focking doozy it is . . spastic, robotic, lurching with effects and still a catchy new wave song at its heart. Whether it was intended to or not, the video channels the DIY, dork-chic of the first videos to grace MTV's airwaves. And the band, in more ways than one, resembles Devo most especially.

Listen to "Space and the Woods".

See the video for "Focker" here:


Swords of Truth
Out Now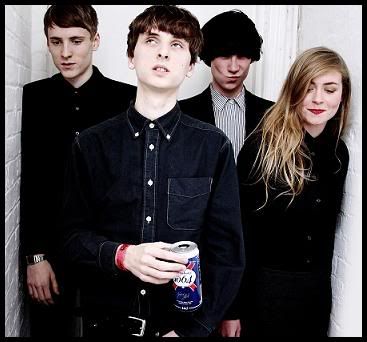 The second single off These New Puritans' debut album,

Beat Pyramid

, is finally available for purchase. One of that brilliant records' stand-out tracks, "Swords of Truth" takes cues from early rap and infuses them into the band's own style of twisted post-punk.
While not as palatable as lead single "Elvis," this song has a riotous energy and distinctive sound you won't soon forget.
Its beats are serrated, its lyrics cryptic and oh-so-precocious - they almost sound like a direct challenge to music reviewers. If that's the case, I can only say: guys, there's nothing to be defensive about.



4.5/5



Buy it from RecordStore here.


~~~

A quick update on the new Electricity in Our Homes' single: Its release date has been pushed back to June 2nd. Nothing else has changed, and the still-secret single should be posted on the band's MySpace page any day now.