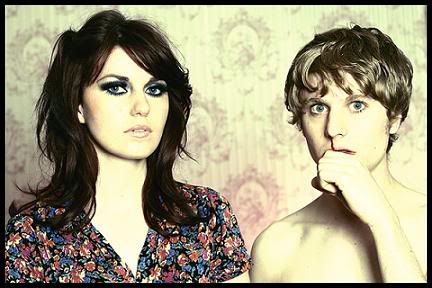 A pressing intensity drives "You Bring Me Down," the third single (and the band's first ever CD single) from Blood Red Shoes' forthcoming album. But despite its lyrics, the song does anything but bring you down. Utterly buoyant, the song is considerably less visceral than their last single "I Wish I Was Someone Else," though that song was a bass-soaked savage with hints of mental instability, so comparisons are probably irrelevant.
Still, the things that are similar are inherent to Blood Red Shoes' sound: catchy melodies, crisp and creative rhythms, post-punk guitars, vocals that range from just above a whisper to yells pulled from the gut. The two-piece creates a sound much larger than what you'd expect, and Laura-Mary Carter's lead vocals nimbly toe the edge between vulnerability and aggression in "You Bring Me Down."
The single was originally released in a different version on 7" back in November of 2006. This newer version is, like the band claims, "heavier and louder." And, in an era where bands can form, tour, put out an album and disband in less than a year, "You Bring Me Down" gets a fitting release just before the debut album's release in April.




***


"You Bring Me Down" will be released tomorrow in the UK, and Feb. 6th in the US, on CD and also on two different 7" pressings. If you pre-order in time from RecordStore, you can get a limited-edition signed 7".
***
New "You Bring Me Down" Video:

www.bloodredshoes.co.uk
www.myspace.com/bloodredshoes